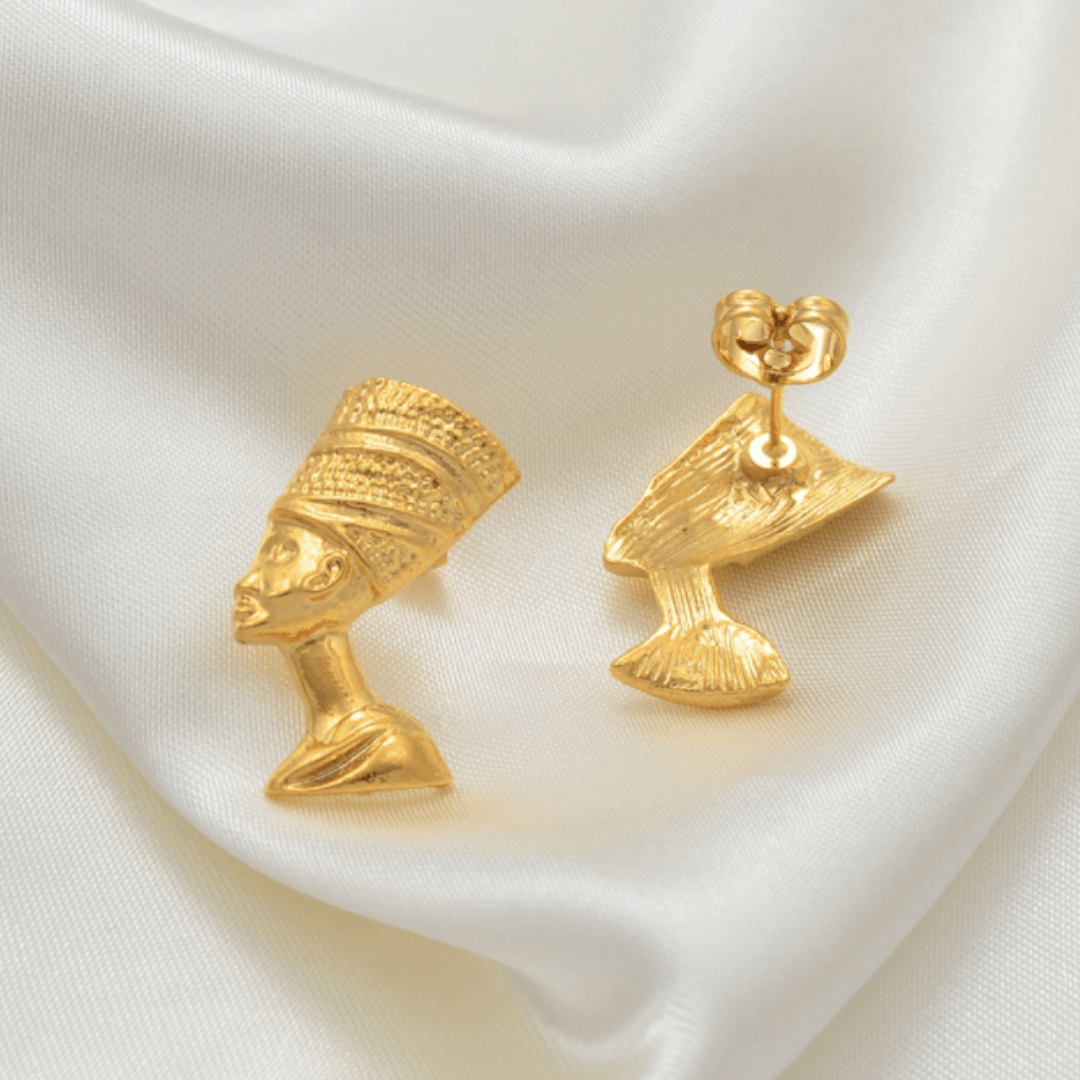 Queen Nefertiti Earrings - 18K Gold Plated
100% No-Risk Money Back Guarantee
✖

&nbsp&nbsp Won't Tarnish, Turn, or Fade!

Our items are made from tarnish-resistant metals and plated in 18K gold. All items are made to last and will not fade, rust, or begin to change colors. These lovely earrings have the following dimensions:
Earrings: 2.4cm (.94in) in height and 1.7cm (.66in) in length
We chose these dimensions to make these earrings the perfect overall size for everyday use and for all outfits + occasions! You can mix and match this set with other items and still pull off a unique and unmatched look.
We create each and every one of our products with our customers and our community in mind. We are committed to quality and strive to deliver the best experiences and products possible for our customers!
Shipping
Our necklaces ship out within 24 hours of being placed. You should expect to receive your items within just one-week of ordering. 
Returns
We are committed to customer satisfaction! We offer a 100% risk free money back guarantee on all of our products. We love our items and are sure you will too. If this is not the case, however, please let us know and we'll refund your order!
What if I don't like my item(s)?
We love our products and are committed to making products that you will love, too! If, for any reason, you are not totally in love with your item, please send it back for a refund of your order.
Will my necklace(s) fade or tarnish?
We prioritize quality. Our necklaces are tarnish-proof and do not rust nor fade. Rest assured knowing that you are purchasing a necklace that will last for life!
Can I wear my necklace(s) in the shower or pool?
Since we use 18K gold plating for all of our necklaces, they are made to last and resist water and most chemicals. Our necklaces hold up against water and other common elements.
I'm afraid to pay online, is this safe? 
Yes, our site is 100% safe and secure!All payments are processed by a third party, authorized payment processor. We use SSL encryption protocols and safety measures to protect your payment information.You can also order using PayPal, Apple Pay, and more should you not want to use a Debit or Credit card.
Melanin. Is. Beauty.
Unapologetically African and Proud
We believed that the African community needed more positivity and inspiration, so we created Beauty Melanin.
Total 5 star reviews: 310
Total 4 star reviews: 14
Total 3 star reviews: 1
Total 2 star reviews: 1
Total 1 star reviews: 0
Quality
Rated 4.9 on a scale of 1 to 5
Design
Rated 4.9 on a scale of 1 to 5
L'Tanyua L.

Verified Buyer

Reviewing

Queen Nefertiti Necklace - 18K Gold Plated

Quality

Rated 5.0 on a scale of 1 to 5

Design

Rated 5.0 on a scale of 1 to 5

Reviewing

Queen Nefertiti Earrings - 18K Gold Plated

Queen Nefertiti's earrings

Love them received so many compliments on them beautiful

Quality

Rated 5.0 on a scale of 1 to 5

Design

Rated 5.0 on a scale of 1 to 5

Reviewing

Queen Nefertiti Necklace - 18K Gold Plated

The Queen

These were purchased for Birthday gifts for family. They loved them. I have one for 3 yrs. Looks brand new

Quality

Rated 5.0 on a scale of 1 to 5

Design

Rated 5.0 on a scale of 1 to 5

Reviewing

Queen Nefertiti Necklace - 18K Gold Plated

Quality

Rated 5.0 on a scale of 1 to 5

Design

Rated 5.0 on a scale of 1 to 5

Reviewing

Queen Nefertiti Royal Bundle

Leary

The set's you have sent me prior to the order you sent me was sturdy the necklace links were loose and fell off . This set came a part
Reviews Loaded
Reviews Added